Sage X3 – Enterprise Management Solution
Administrator
@ ZILLIONe Business Solutions (Pvt) Ltd
Fast and Flexible Enterprise Management Solution for Modern Businesses.
An Enterprise Management Business Application can improve the way of doing any business to reach their business goals in many ways. Sage X3 (formerly Sage Enterprise Management) is a cost-effective ERP Solution that brings together all of the organization's end-to-end operations under one system in one database. Sage X3 can easily accessed through on-promise or cloud hosting environment and delivers all the benefits of a robust ERP Solution while remaining simple, flexible and scalable. This offers multi-currency, multicountry with legislations, multi-language and multi-locations which is designed for mid-sized companies and large-scale enterprises.
Thousand End Users Worldwide
Why Sage X3 is recognized by global organizations:
Global Standards 
Sage X3 is compliance with global standards such as IFRS (International Financial Reporting Standards) and GDPR (General Data Protection Regulation). These standards have gained the trust from the customers all over the world to choose Sage X3 as their preferred Enterprise Management Solution.
Accelerate Business Processes and Business Intelligence 
Sage X3 incorporate all the business processes into one unifying software design including Financial Management, Sales, Customer Service, Inventory and Manufacturing. This powerful Enterprise Management Solution supports an organization's unique business needs with a design that's intuitive and easy to manage. Users will gain real-time analytics from a general overview to transactional details for greater insights on operational performance. Sage Enterprise Intelligence Reporting helps to analyze the business information in numerous ways to make management decisions with predictive analysis.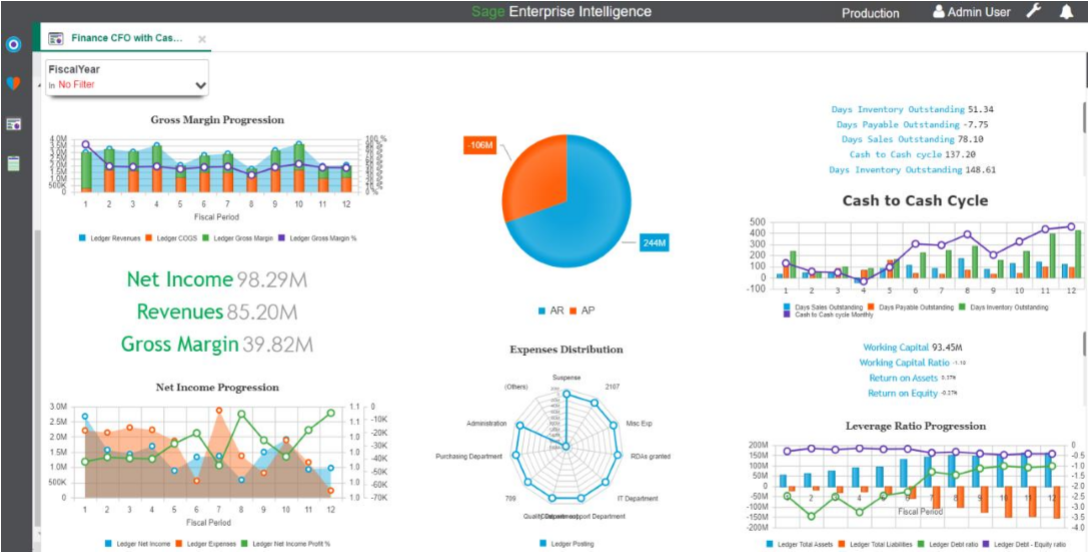 Share Information – Easy and Fast  
Sage X3 is a mobile friendly, completely web-based solution which enable collaboration and streamline workflow by connecting customers, vendors, partners and employees to a common data source. The userfriendly design of the solution synchronizes data in Microsoft Office and builds on programs you already use and optimizes features to get the most out of your software.
Industry Specific Solutions  
Numerous industries can find functionality that's already in-built specifically for their needs with Sage X3 ERP. This solution works with applications and programs from Sage and other certified partners giving you more specialized options for business intelligence, inventory, human resources and more. Currently Sage X3 offers the solution for 18 industry verticals with specific functionality and reporting for each industry.
How Sage X3 could benefit your organization:
Tremendous Value Right Out of the Box 
Sage X3 offers a wide range of standard features that are hard to find in competitive products, making it one of the most cost-effective ERP solutions in the market. Sage X3 is categorized as an ERP Solution between Tier-1 and Tier-2 which can fulfil the functionality gap between the products in both tiers.
It Grows and Adapts with Your Business  
Change is inevitable in the modern business world. Sage X3 is designed to support both current and future needs in any business. This enables to start with simple features business needs today, then scale up and "turn on" new features and leverage the open architecture to easily reconfigure process flows as the business needs change. Business expansions in different verticals would be easier with Sage X3 with inbuilt functionalities in different business areas.
Powerful, Yet Simple  
Compered to certain other ERP systems in the market, Sage X3 is popular as a user-friendly ERP Solution with quick adaptability for system users. Sage X3 is simple to implement, easy to use, and customizable according to the requirement which will save time and effort to gain a huge cost benefit to the organization.
It's Ready for Global Business  
Since thousands of companies worldwide are using Sage X3 across 80+ countries, it's no surprise that multinational functionality is built right into the software including support for multiple languages, legislation, and currencies.
Web-based by Design  
Because Sage X3 is web-native, the system users get the exact same system whether they access it locally (client/server) or over the web. Sage X3 is platform independent since the system can be accessed through a web browser in any platform including tablets and mobiles.
Top-Notch Technology  
With an open design and top-notch technology, Sage X3 works equally well with Oracle and Microsoft SQL databases and Windows, Unix, or Linux operating systems – providing you with technological "freedom of choice." For web user interface, Sage X3 uses the latest web technologies (HTML5/ GraphQL) to provide a seamless interaction with system users.
ZILLIONe Technologies Pvt (Ltd) made Sri Lanka proud by emerging winners of the Best Microsoft Dynamics Partner of the Year 2021 award for Sri Lanka and Maldives markets for the 3rd consecutive year.