Environment Monitoring Solutions
ZILLIONe offers complete high quality environment monitoring solutions. Our enterprise solutions can be customized to adapt to your industry specific needs and business requirements. Our offerings can match the most sophisticated environments to provide early warning systems and detailed activity log tracking.
Analyse
Analyse and scan current environment to assess needs.
Recommend
Consulting services to determine optimal monitoring solution. 
Implement
Migration and integration services to implement new solutions. 
Support
Ongoing technical support to maintain solutions.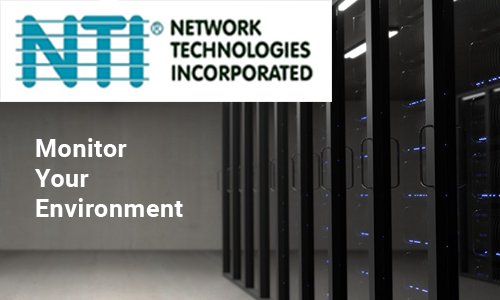 Server Room Solutions Powered by NTI
As the international distributor for Network Technologies Incorporated, we envision to provide clients the best-in-class monitoring solutions. With NTI's ENVIROMUX® Enterprise Environment Monitoring Systems (EMS), you can monitor critical environmental conditions and activities to ensure potential risks and threats are minimized.  
Track temperature, humidity, liquid & water presence, power, intrusion, air flow, pressure, security surveillance, gasses, access control, wind speed, vibration, glass breakage and smoke
.
Alerts via email, LEDs, alarm beacons, sirens, web pages, network management (SNMP), voice phone calls (via Automatic Voice Dialler System), and SMS. 
Comprehensive logs & reporting are also available via an Android Mobile App.
Pharma / Science Laboratories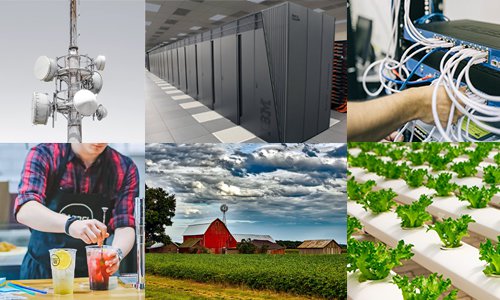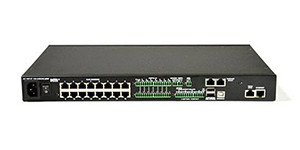 ENVIROMUX-16D
Enviromux 16D includes three internal sensors: temperature, humidity and power while it also supports 16 external configurable sensors, eight digital input sensors, and four output relays for control of external devices.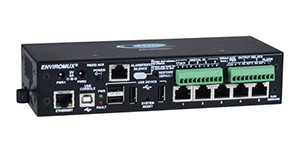 ENVIROMUX-5D
Enviromux 5D consists of two internal sensors: temperature and humidity while it also supports five external configurable sensors, five digital input sensors and two output relays for control of external devices.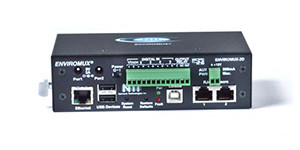 ENVIROMUX-2D
Enviromux 2D supports supports two external sensors, five digital input sensors, and one output relay for controlling external devices.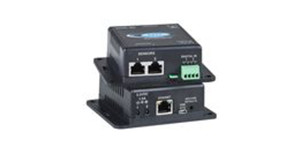 ENVIROMUX-MICRO-THRP
Functions independently or as an IP-connected remote sensor for the ENVIROMUX-2D/5D/16D. Features an integrated temperature/humidity sensor, two RJ45 sensor ports for external temperature/humidity sensors, two dry contact inputs and built-in Power over Ethernet (PoE).
Sensors & Accessories for Every Need
Select and Configure Various Sensors and Accessories onto the Enviromux System
Environmental Sensors
Remote Temperature/Humidity Sensor over IP

Temperature Sensors

RTD Temperature Transmitters/Sensors

Temperature/Humidity Sensors

Industrial Temperature/Humidity Sensors

Rope-Style Leak Detectors

Spot Leak Detectors

Under Carpet & Tape-Style Detectors

Ultrasonic Level Transmitter

Smoke Detectors

Gas Detectors

Air Flow/Velocity Detectors

Outdoor Temperature Sensor

Wind Speed Sensor

Barometric Pressure Transmitter

Pressure Sensors
Power Relays & Sensors
Power Over Ethernet Adapters

AC Voltage Detectors

AC & DC Power Monitors

Hall-Effect Sensors

3-Phase Power Monitors/Transducers

Current Transformers
Sensor Accessories
Digital Input/Output Expanders

Fiber Converter/Extender

Sensor Converters – 4-20mA, 5VDC

Sensor Cables

Surge Protectors

Intrinsically Safe Barrier
Security Sensors & Access Control
Door Contact Sensors

Vibration & Glass Break Sensors

Motion Sensors

Tamper Switch

Emergency/Panic Button

Access Control
Alert & Communication Accessories
Automatic Voice Dialer Systems

USB Modems

IP Surveillance Cameras

Siren Alarms

Alarm Beacons