A top-notch SAGE CRM solution for SMEs has now been made available! You can now use an entirely web-based CRM solution with out-of-the-box and customizable business process automation, yielding your organization freedom of choice and a quick return on investment.
Why choose SAGE CRM? SAGE CRM was designed to aid small and medium-sized businesses and optimized specifically for businesses with CRM users. It is easy to use, adapt and quick to deploy in the cloud or on-premises, configure, learn, and manage for companies that want to focus on their business, not on their software. Critically, it's affordable, offering you the best possible value. You can enjoy more business insights, greater efficiencies and a single customer-centric view across the entire business. The solution will help you to simplify the sales process, shorten sales cycles and make the most of every sales opportunity.
In essence, Sage CRM will give your company with a wide range of tools and functionalities to help you locate new clients, shorten sales cycles and develop long-term, lucrative partnerships across all channels. Sage CRM gives a decisive competitive edge by giving a comprehensive, easy-to-use solution to properly manage these relationships, regardless of how, when, or where customers, partners, and prospects choose to interact with your business.
This is primarily why our award-winning Sage CRM is used by 15,000 firms in 70 countries to make every business encounter count and manage their crucial sales, marketing, and customer service activities on a daily basis.
Proof Points from Our Customers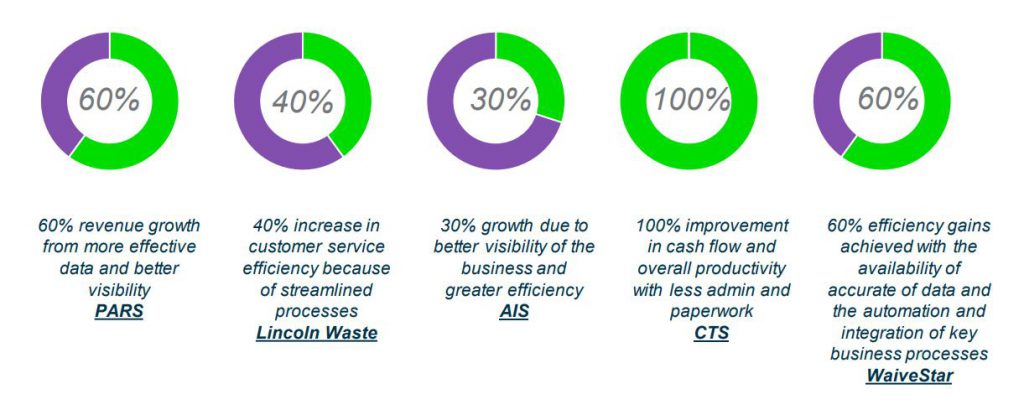 Why SAGE CRM is more important than ever and the benefits of pivoting your business
Integrated solution.
For front-to-back-office connectivity, the ability to transfer consistent data between CRM and ERP software is critical. Both as matter of fact, your entire organization will be able to create dynamic links from entities in their CRM system to similar entities in their ERP system, allowing changes in one to propagate to the other.
The piece in the customer-centricity jigsaw through front-to-back-office integrations brings together disconnected business processes.
You can rest assured that both front-office and back-office employees are working with the same data, reducing, or eliminating the need for rework and the risk of error.
Besides, the approach eliminates the necessity for duplicate data entry. As a matter of fact, by simply entering data once, one can boost efficiency and reduce errors
360-degree customer visibility
Using an interactive dashboard, you can provide a more detailed at-a-glance view of each customer, such as order status and purchase history. Accordingly, management may receive a full perspective of all client behaviours and KPIs, allowing them to immediately identify the areas that require the greatest attention.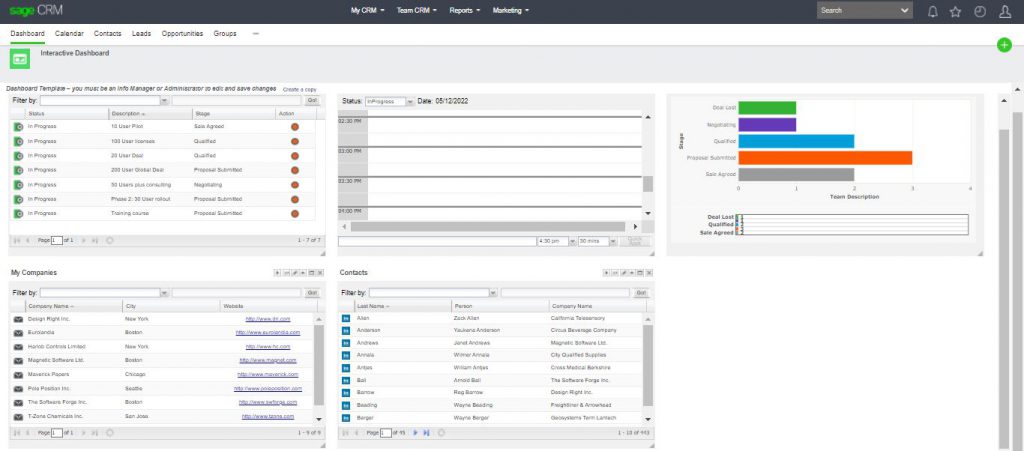 Overall, the solution provides a real-time view for staff across departments to answer any client question and allows you to simply view a customer's call or payment history, order status, outstanding customer cases, estimates, and other information.
For instance, Account managers will be able to access a client's purchase history, while customer care representatives will be able to update the consumer on the status of an order. Access to both financial and non-financial information eliminates the customer data 'blind spots', regardless of where the information is generated or stored.
These capabilities would allow you to confirm that your customer's credit limit had not been exceeded before placing a new order. If an issue arises, it is communicated to the consumer immediately rather than when the order reaches credit control. Again, this aids in the elimination of errors and process duplication further down the line.
Streamline your processes
Sage CRM makes it simple to handle the necessary and unique tasks for onboarding new customers and suppliers, including credit checks, references, and contact introductions.
Easily deliver on what you promise.
Having the capacity to swiftly generate correct quotes can assist you in gaining more business in the market. Therefore, as the outcome of the improved forecasting of client demand, you will be able to simply deliver on what you promised.
For instance, the ability for sales to report on their near-term closing actions provides purchasing with the data they need to estimate and order inventory more accurately.
In fact, your sales team can monitor inventory levels in real-time, submit a new quote or order, or watch a sale through to completion, allowing you to quickly and confidently place fresh purchases.
Moreover, sales or customer service team members can enter new orders or view orders, invoices, inventory availability by location, customer purchase history, or credit status without having to call someone or log onto another system, as critical information is available before an order is placed.
Targeted Marketing Effectiveness and ROI.
The solution, which is an invaluable tool for marketers, will assist you in planning, executing, and measuring the performance of each marketing campaign. It becomes much easier to deliver the correct messages to the right individuals at the right time, eliminating guesswork and making the greatest use of your marketing resources.
Financial profiling, order information, purchase histories, unique interests, and demographic information can all be utilized to generate complete profiles of customers and prospects for more targeted campaign planning.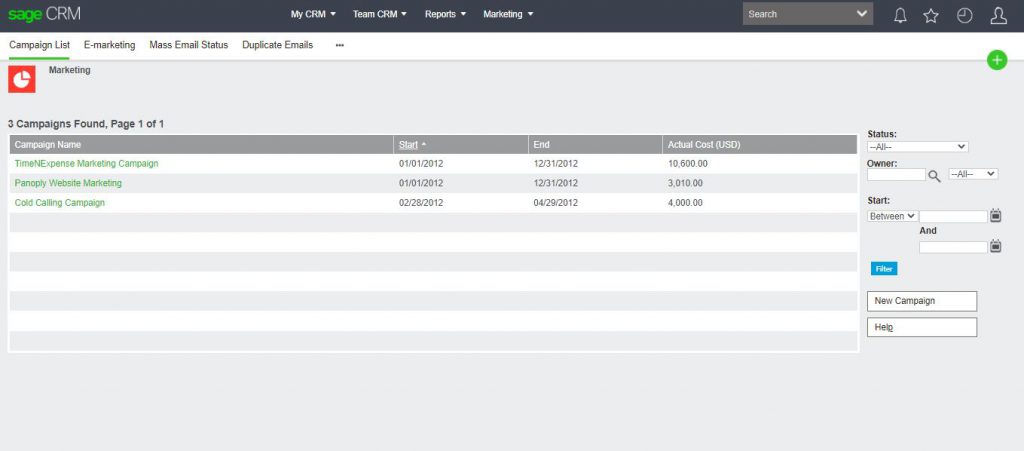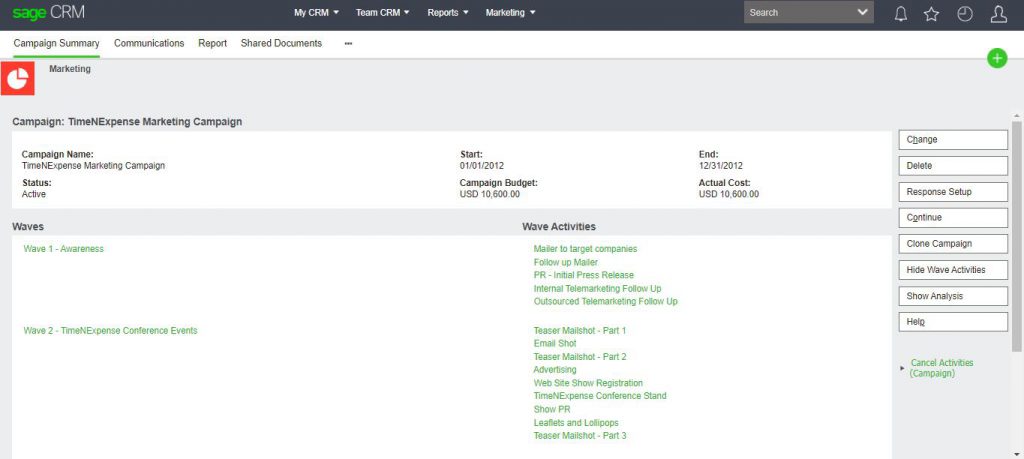 Your campaigns will be more successful if they are well targeted. Sage CRM makes it easier to deliver targeted campaigns by giving extensive information from throughout your organization to your marketing team. Whether you're using your own campaign lists or imported mail house lists, campaign execution has never been easier. The interactive dashboard may display highly graphical reports and charts for quick reference, allowing users to analyse data in real-time.
Accordingly, the solution provides an effective control for monitoring marketing budgets as well as the ability to determine direct revenue yields. Reporting can assist in tracking the source of leads, assessing opportunities, and focusing on prospects who are more likely to be acquired. By this means, enhancing ROI, maximizing marketing budget and spending.
To summarize, the highly dependable Sage CRM can function as a standalone solution and a great option for small and medium-sized enterprises that need to manage their customer management procedures precisely. It's a top option in its area as a comprehensive solution that allows organizations to streamline management tasks, plus used by a variety of companies all around the world to help them flourish. Given the product's simplicity and straightforward to use functionality for businesses, SAGE CRM virtually stacks up as a solid solution as compared to the rest of its CRM options such as Salesforce, Sugar CRM, Dynamics 365, and Zoho CRM. If you are an established SAGE 300, SAGE 100, or SAGE X3 user, you may indeed leverage your CRM with integrations to harness your corporate data and integrate it all in one place. Similarly, if you are currently using SAGE CRM, information can be accurately linked with SAGE 300. SAGE CRM could link or plugin with any form of API-built ERP solution to meet your operations into gaining granular insights all through your business journey.
The article provides a summary of the significant capabilities available within SAGE CRM. Ipso facto, if you require to tick the boxes for what you're looking for in a CRM or essentially if what you want is a tool that will grow, adapt, and evolve as your needs evolve, taking it to the next level, contact us directly via +94 115 569 999 or email info@zillione.com to reserve a slot for an in-depth discussion and a high-level demonstration with our consultants.
Take note that the most recent version, SAGE CRM 2022 R1, was launched on January 31, 2022. Existing users ought to be advised that the release will be supported by Refreshed eLearning, Updated User Assistance, And Community Supporting Information. The release notes for the new version are published at https://help.sagecrm.com/ (the help centre summarizes all the changes) and include a list of over 30 customer concerns fixed as well as numerous important advancements addressed with a focus on deployment and a better administration experience.
For more details on the ZILLIONe group of companies and products, click here: https://zillione.com/