ZILLIONe Crowned as the Top partner for SAGE 300 2018 – Sri Lanka & Maldives
Administrator
@ ZILLIONe Business Solutions (Pvt) Ltd
ZILLIONE IS AN INTERNATIONALLY NETWORKED ENTERPRISE TECHNOLOGY SOLUTIONS PROVIDER WITH OVER 39 YEARS OF EXPERIENCE IN PROVIDING A HOST OF CUTTING-EDGE ENTERPRISE BUSINESS SOLUTIONS
One of the company's products was recently recognized when ZILLIONe was awarded the 'Top partner for SAGE 300 2018 – Sri Lanka & Maldives', elevating them into the elite group of the top five partners in Asia. Adding to their laurels, they received a second award in the area of marketing, with the 'Top Marketing Excellence 2018' award.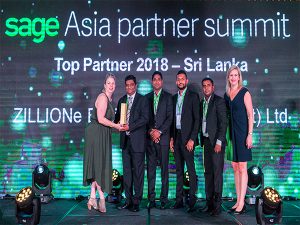 Here are excerpts of an interview with ZILLIONe's Director of Enterprise Business Solutions Luxshumyraj Sivarajah:
Tell us a bit about ZILLIONe.
Established in 1979, ZILLIONe is a leading enterprise technology solutions provider with strong in-house development capabilities and exceptional global partnerships with renowned technology brands. ZILLIONe is parent to multiple business units catering to the Sri Lankan market, including ERP and CRM. Among a multitude of solutions is SAGE 300, which recently won the coveted 'Top partner for SAGE 300 2018 – Sri Lanka & Maldives', making ZILLIONe the largest SAGE partner in South Asia, a milestone for the company.
The award also recognizes the company's expertise in serving over 400 clients from different industries globally. Keeping true to its 'Customer First' motto, ZILLIONe has assisted its clients in solving operational challenges by equipping them with the right technology solutions. ZILLIONe's work is not only restricted to Sri Lanka. In 2007, we started operations in India, and the Maldives in 2009. In 2016, we expanded to Australia. We also have operations in Fiji, and are keen on tapping the Asian and other global markets.
Sri Lankan businesses are in a particular state of development, and digital technology isn't widely applied. How can ZILLIONe ERP Solutions help businesses transform digitally?
We see this as an opportunity. Being an emerging market in the global context, there are many organizations who are in the transformation phase in terms of their business model and the adaptation of technology. Although the transformation is not happening on a large scale, it is still happening. Many are moving to cloud solutions, while others are now experimenting with AI. Furthermore, we believe our experience of implementing business solutions in overseas destinations will help us immensely in identifying the areas to be digitalized and automated in the local arena.
Some of the trends driving digital include AI and the cloud in general. Do these things matter for Sri Lankan businesses? And why?
Yes of course. Sri Lanka is doing better in that aspect. As a country, we are welcoming new technologies and looking at ways and means to make use of them. At the end of the day, organizations are very interested in adopting new technologies to be competitive and to reduce their overheads.
Many customers have started moving their ERP to the cloud and are experiencing benefits like ease of accessing their data. A lot of businesses are interested in moving into the analytical part, like business intelligence.
People are also moving towards paperless, where you can do funds transfers, approvals and work flows, and cut down on costs.
In 2016, a Narrative Science survey found that 38% of enterprises were already using AI to automate tasks, with this predicted to rise to 62% by 2018. However, a Forrester survey conducted that same year found that 39% of businesses are still unclear about what AI can be used for in a practical business context. Below are simple examples of how Sri Lankan companies use AI in business:
Facebook for business
Enhanced tools available for 'behind the scenes' for businesses give you access to the goldmine of data held within Facebook's platform. It's intuitive, user-friendly and immediately accessible.
Chatbots
Having sufficient staff to deal with customer interactions around the clock in a world that never sleeps is one of the greatest challenges for any business. "Gartner predicts that, by 2019, requests for customer support through mobile messaging apps will exceed customer support by traditional social media, and by 2020, 85% of customer interactions will be with AI."
As an internationally networked enterprise technology solutions provider, what is the spectrum of solutions offered by ZILLIONe?
SAGE 300 is a main product, positioned as a Tier 2 ERP, which automates financials, inventory, orders and sales process among others. The mobility factor is also key. To-date, we have more than 400 clients in Sri Lanka who are using SAGE 300, and we can claim to be the market leader for this. We also have nearly 150 on after-sales support.
There are other businesses that have outgrown SAGE 300 and want to move on to SAGE x3. Our solutions include ERP solutions for Small, Medium and Large Enterprises (SAGE 300 and SAGE Enterprise Management aka SAGE X3), ivend POS solution for the retail and hospitality sectors, HCM solutions, and integrations and custom developments.
What is SAGE 300, and how can it benefit local businesses?
SAGE 300 has been in the Asian and Sri Lankan market for more than 25 years and is widely known as Accpac. ZILLIONe has done over 400 installations in the region spanning across several sectors like trading, pharmaceutical, government institution, educational institute, tea exporters, hospitality, etc. This ERP solution is developed to improve organizational visibility and enable growth through effective means of managing accounting, inventory, operations, distribution and more. SAGE 300 also enables better inventory management and financial automation to save time and effort across the organization.
What is 'SAGE Asia Partner Summit 2018', and what does ZILLIONe's recent accolade mean for the company and its growing clientele?
The SAGE Asia Partner Summit is the largest gathering of partners in Asia that brings together Meet for SAGE executives and experts from across the partner ecosystem. This helps partners get insight on the roadmap of the product, as well as discover new business opportunities and learn more about the solution extensions.
It's simple: our people and our customers. We invest heavily in our workforce. Our customers have been our strength, they believed in us and we have never let them down. We have SAGE 300 customers who have been with us for more than 25 years. This is a real life example of our heritage and support. Our ERP exposure in the market, ERP implementation and knowhow are also USPs for the company.
What are ZILLIONe's plans for the future?
We are geared to enable our customers to succeed in their business. We have introduced a SAGE X3, an enterprise management solution that is cloud-based, for organizations who have ventured into diversified businesses including process-intensive manufacturing solutions. This will be a game changer is the ERP market in Sri Lanka, and we are excited to launch this product officially in early 2019.
Check our article on: https://echelon.lk/home/zillione-dominates-the-digital-world-with-sage-300-2/
ZILLIONe Technologies Pvt (Ltd) made Sri Lanka proud by emerging winners of the Best Microsoft Dynamics Partner of the Year 2021 award for Sri Lanka and Maldives markets for the 3rd consecutive year.