Sage Reporting Tools Bring Organizations Closer to its Data
Business Solutions Specialist
@ ZILLIONe Business Solutions (Pvt) Ltd
Reporting is undoubtedly considered as the 'pulse' of most business organizations as it contributes significantly for its survival & success. Whilst several applications and software are currently in use today by business organizations in order to capture, process and generate information pertaining to their business operations for a better decision making, several SMEs still rely on manual reporting techniques to generate operational information.
Besides, extracting accurate data out of them has not been always easy due to various constraints such as, resource inadequacy, functional & technical limitations in a system & human error etc. As such, organizations face a stiff challenge and are even deprived of extracting required valuable data which could've potentially increased business gains manifold.
IMPORTANCE OF REPORTING TO ORGANIZATIONS
In order to track and analyze performance and overall business health, it is vital to have organized reporting process in place. A well-documented report will disclose nuances in relation to core business functions, whilst creating opportunities to advance and make market gains. It also contributes to setting benchmarks and goals for upcoming financial years for an organization and to track their progress in achieving the same.
Furthermore, this plays a pivotal role for business leaders to plan and make decisions to ensure that the business survives and thrives in the future. 
HIERARCHY BASED REPORTING NEEDS 
Another factor which needs to be considered when addressing reporting needs of an organization is its hierarchy and relevant users who are exposed to business data. Establishing hierarchy-based reporting ensures accountability and provides control over the visibility of confidential business data based on users' roles and responsibility.
SAGE ERP facilitates configuring reports considering the above and ensures good practice of business ethics.
SAGE REPORTING TOOLS
Generally, an ERP would facilitate only a single reporting tool for reporting purposes thus the users would heavily rely on technical assistance from vendor support teams or in-house IT to generate required templates. As such, customizing reports to cater to certain requirements would be a hassle and time consuming.
On the contrary, SAGE ERP boasts of diverse reporting platforms to extract business data with minimal effort and time while dependency on external assistance could mostly be negated based on the tools that are on offer.
As such, the below reporting tools in SAGE ERP provide a competitive edge over other ERPs in terms of generating business reports:
SAGE INTELLIGENCE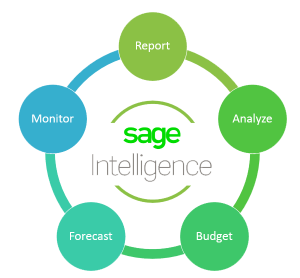 Another 'Off-the -shelf' business intelligence reporting tool, which is well known as a simple, flexible reporting solution that gives a meaningful insight into business information is the SAGE Intelligence. This organized and structured tool allows users to access the required information easily enabling to improve operations and strategic planning. In terms of efficiency, users can now spend more time focused on information analysis and interpretation while spending minimal time pulling the data together.
The tool allows to extract data from Sage 300 and delivers it in a Microsoft Excel format which is relatively easy to understand and manipulate, while facilitating control of the design of reports.
Basically, Sage 300 Intelligence Reporting empowers to:
Utilize existing Microsoft Excel knowledge to easily create and edit reports, thus providing clear visibility across a business.
Enable designing of customized reports that suit business's unique requirements.
Graphically represent business data using graphs, charts and slicers that could provide a clear picture of the business operations.
Ready to use reports that are already formatted could be used with the ability to customize information to be displayed.
CRYSTAL REPORTING
This reporting tool, which is a version of the Business Objects Enterprise product is well reputed and widely used by several organizations which allows to create a range of reports and dashboards with a minimum effort. Regarded as a business intelligence application suited for individual users or small and medium-size businesses (SMBs), Crystal Reports is designed to build reports from multiple data sources to benefit users immensely and to evaluate and interpret vital information pertaining to a business organization.
Furthermore, while users can utilize this tool to generate simple reports, the software also offers comprehensive tools which are required to produce complex or specialized reports which would be required by beneficiaries from various organization levels.
The fact that Crystal Reports is designed to produce reports from virtually any data source, makes it a powerful reporting tool and is often the preferred choice amongst report builders. Its various functions such as formulas, cross-tabs, sub-reports and conditional formatting help make sense of data and to unearth significant associations that might otherwise be concealed.
In addition to the above, Crystal Reports can be published in a variety of formats ranging from Microsoft Word and Excel, e-mail and even over the Web. Advanced Web reporting also enables all members of a specific workgroup to view and update shared reports within a web browser.
SAGE ERP handily allows users to add unlimited customized reports built on Crystal Reports and to configure the same based on users' roles and responsibilities.
FINANCIAL REPORTER
How convenient would it be if a user could literally prepare financial reports directly without the aid of a software? It wouldn't generally be an easy task, especially in the absence of an in-house IT support team. Besides, availability of software vendors or even hiring external developers might prove to be a costly and unreliable affair to maintain and control.
In order to address such uncertainties, Sage 300 ERP has provided an 'Out of the box' solution to deal with this by introducing "Financial Reporter Add-on", which enables users to create their own reports without the assistance from vendors or developers.
Financial Reporter is highly regarded as one of the powerful tools in Sage 300 ERP which enables users from different levels in an organization to generate various type of MIS Reports based on General Ledger data.
This reporting tool is based on the following concept:
It is a spreadsheet consisting functions that read data directly from general ledger of Sage 300 ERP.
Financial statements can be created based on specification and options, while user could freely choose between printing or viewing final statements.
Subsequent to printing the report, user can use any other spreadsheet function to further process the data.
Allows user to enter formulas that let them to drilldown to be associated transactions in the resulting report.
Based on the above, it is quite evident that SAGE 300 ERP indeed stands out as a preferred choice for any organization that looks to have its reporting structure in place and to reap enormous benefits in terms of investment made on business systems.
ZILLIONe Technologies Pvt (Ltd) made Sri Lanka proud by emerging winners of the Best Microsoft Dynamics Partner of the Year 2021 award for Sri Lanka and Maldives markets for the 3rd consecutive year.