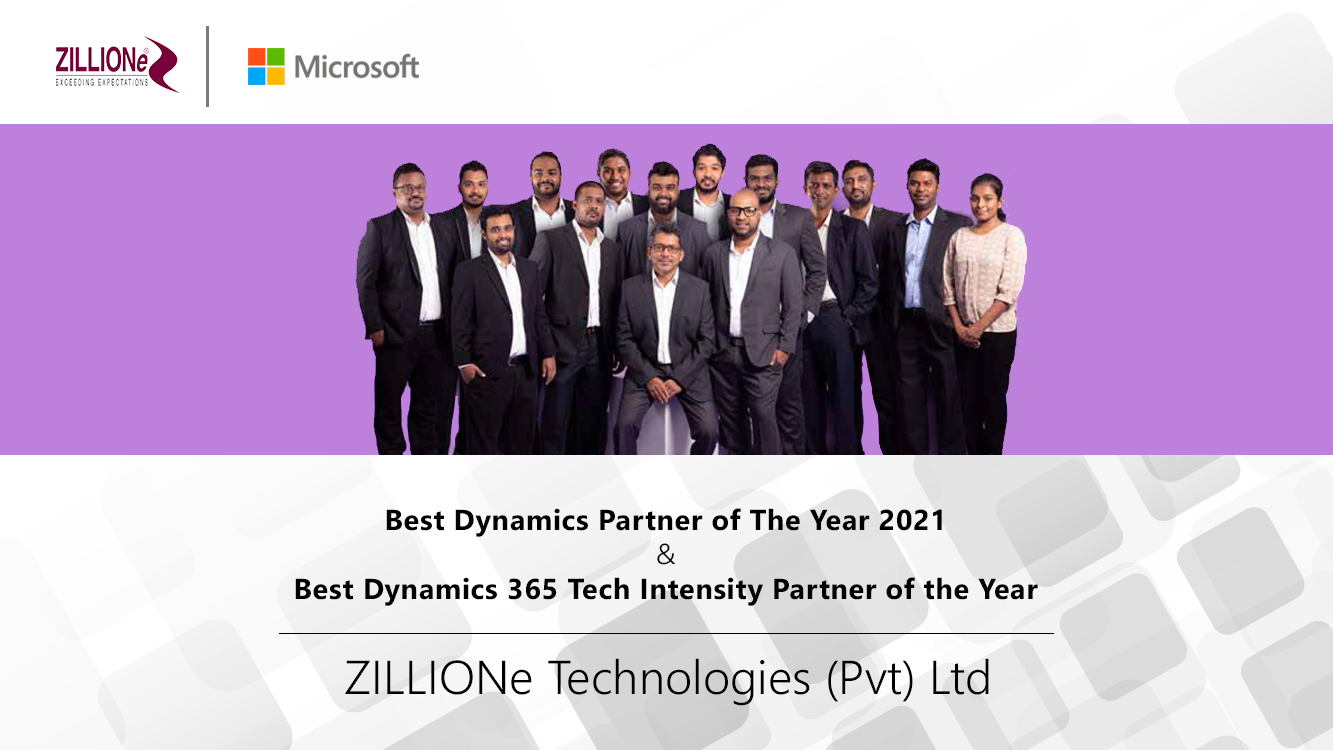 ZILLIONe wins the Best Microsoft Dynamics 365 Partner of The Year 2021 award yet again!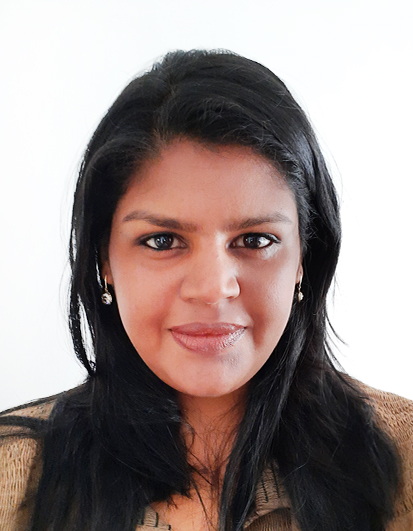 Marketing Communications Executive
@ ZILLIONe Systems Solutions (Pvt) Ltd
ZILLIONe Technologies Pvt (Ltd) made Sri Lanka proud by emerging winners of the Best Microsoft Dynamics Partner of the Year 2021 award for Sri Lanka and Maldives markets for the 3rd consecutive year. The competition was held against eight countries in the South East Asia New Markets (SEANM). ZILLIONe also brought the Best Microsoft Dynamics 365 Tech Intensity Partner of the Year 2021 title home.
The awards were presented at the ceremony themed, "Inspire 2021", organized by Microsoft, on the 8th December. The ceremony was held to celebrate SEANM partners who deliver an exceptional partnership that inspire innovative solutions whilst helping customers to embrace digital transformations through Microsoft technology.
Sharing his celebratory note, Director-Digital Transformation, Enrico Lisk said, "we are honored and humbled by winning the best Dynamics 365 partner award for the 3rd consecutive year. It is our commitment to world-class solutions and deployment of Biz Apps that our customer's lavage for competitive advantage"
"The Dynamics 365 Tech Intensity Partner is a new award from Microsoft. Customers are assured the most cutting-edge future-proof technology is incorporated into their Digital Transformation journeys by ZILLIONe's team of Microsoft certified professionals," he added.
For the past 40 years, ZILLION has provided IT solutions to a vast variety of industries worldwide, including Sri Lanka, Maldives, Fiji, and Australia. Moreover, Microsoft Dynamics 365 and ZILLIONe Technologies have championed the Sri Lankan tech arena in securing innovative ERP and CRM solutions for over 1000 clients within a decade-long partnership.
Microsoft Dynamics 365 provides cloud-based and AI-powered ERP and CRM software solutions that help businesses to enhance functionality processes and customer relationships.
In terms of ERP solutions, Dynamics 365 provides SMEs with scalable and extensible solutions that pave space to grow and adapt, to work smarter and efficiently, streamline fiscal management, accelerate sales processors, deliver exceptional customer service, and facilitate project success. The Dynamics 365 ERP solution integrates Customer Relationships, Finance, Assigned Risk Adjustment Program, Inventory, Purchasing, Manufacturing, and all other aspects of business functionality systems into a centralized system.
CRM solutions, on the other hand, encapsulate AI-powered features that improve customer conversations through real-time coaching, give total visibility of sales performance data across the entire cycle to predict and manage pipelines, and provide better connectivity within teams.
Furthermore, ZILLIONe is one of the few partners of Microsoft Dynamics 365 to provide Customer Insights that helps to harness key data on customers by means of AI technology. Sales persons can utilize this data to pitch sales in align with customer interest.
A significant feature that makes Dynamics 365 ERP and CRM outshine other solutions is the facilitation of high-tech AI-generated automation features, machine learning technology, and Microsoft cloud-based solutions to SMEs. These features are typically enjoyed by large scale, multinational enterprises. In addition, seamless software support to the natively inbuilt Microsoft ecosystem also helps businesses accelerate employee productivity.
Expressing his views on Dynamics 365's exceptional features, Enrico Lisk said, "Unlike most other siloed ERPs and CRMs, Dynamics 365 is a full suite of Business Applications (Biz Apps). We offer the complete spectrum of Biz Apps from ERP, CRM, Customer Insights, to all the peripheral areas."
However, these distinctive features would not have been known or been utilized alone, if not for the support rendered by exceptional team effort and customers. As the famous footballer, Pele once said, "No individual can win a game by himself."
Enrico Lisk expressed his gratitude towards the team, clients, and the Microsoft company saying, "A heartfelt thank you to our valued customers who placed their trust in us, Microsoft for their continued enablement and support, and most of all to my team that has made these two mega Dynamics 365 awards a reality." 
ZILLIONe Technologies Pvt (Ltd) made Sri Lanka proud by emerging winners of the Best Microsoft Dynamics Partner of the Year 2021 award for Sri Lanka and Maldives markets for the 3rd consecutive year.