Enterprise Business Solutions
 Unify all core functions in an end-to-end business suite
 with the most trusted ERP Implementation partner in Sri Lanka
SAP Business ByDesign
Experience a globally recognized, top ERP solution at a great value.
SAP Business ByDesign provides a complete ERP, CRM and HRM system in a unified cloud enabled SaaS system.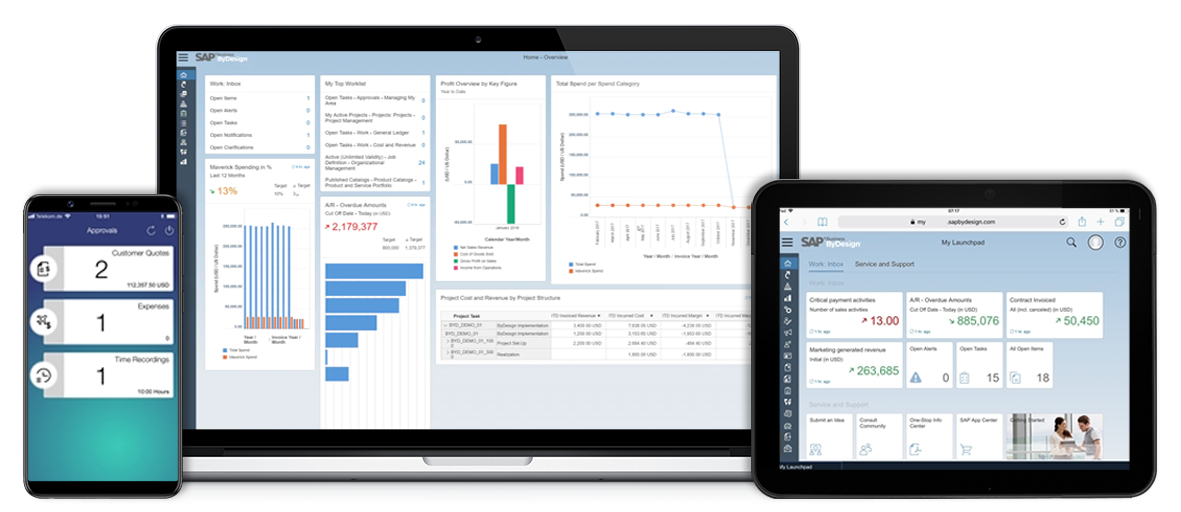 Enjoy a seamless ERP Journey with ZILLIONe who is the most trusted partner in digital transformation.
ZILLIONe is a trusted partner for digital transformation with over 40 years of implementation experience and 25 years of industry exposure. Our certified consultants are well within the industry standards and will guide you towards the project success.
SAP ByDesign is an end-to-end ERP solution that will integrate your entire business with following benefits:
Suite-in-a-box: The solution comprises of ERP, CRM and HRM.
Economical: Having to incur less IT infrastructure cost.
Fully-fledged: Scalable and unified solution
Get a real time view of your financial condition, streamline your core accounting processes, and better manage cash and liquidity.
Financial and Managerial Accounting: Manage accounts for multiple operating units, currencies and reporting standards.
Cash Flow Management: Use customer and supplier transaction data to get real-time visibility and your cash position.
Get support for all relevant supply chain management processes for procurement, order fulfillment, warehouse management and production. Main highlights of the solution for supply chain management are as follows:
Demand and supply transparency across all locations
Multi-level supply chain from supplier to customer
Out-of-the-box intercompany processes
Cost transparency (Planned and actuals)
Up-to-date inventory valuation
Tight process integration for Financials
Automated work distribution and uniform task execution
Process automation via mass data runs
Exception-based planning and execution monitoring
Out-of-the-box integration with other supply chain parties
Multiple interfaces to other solutions
Built-in and side-by-side solution adaptation capabilities
Supplier relationship management enables you to strengthen your relationship suppliers, to improve your procurement processes, to reduce costs, and to turn your relationships with suppliers into a competitive advantage. Key features of supply relationship management include:
Integration
Automation
Analytics
Pricing
Organizational functions
SAP Business ByDesign delivers comprehensive and effective customer relationship management (CRM) capabilities designed to help companies boost their customer satisfaction. A centralized data center integrates marketing, sales and service for increased customer engagement.
Marketing: Ensure solid sales pipelines with one-click access to personalized customer information. Gain the ability to manage lead generation, lead qualification and campaigns with ease.
Sales: Sell more effectively with complete sales force automation of contacts, opportunities, offers and invoices.
Service: Drive customer engagement with user-friendly and built-in tools needed to boost customer satisfaction.
Accurately plan the implementation project and create the scope, schedule and cost baseline with SAP ByDesign.
Save resources by managing your employee journey in one system. Benefits of SAP ByDesign for human resource management include:
HR Appraisals: HR can create, display and edit appraisals, line managers can view and edit their teams' appraisals and employees can view previously field appraisals, and edit and complete live appraisals.
Appraisals Admin: Usually used by HR to administer the Appraisals function.
Recruitment: HR can effectively manage and track the recruitment process for all roles and candidates in one place.
Exit Interview: Exit interviews can be formally recorded and data collected for analysis.
Qualifications and Certificates Checklist: Qualifications for business roles can be created, maintained and flagged as mandatory to ensure the right skill sets are obtained.
Employee Qualifications and Certificates: Employee qualifications, certificates, skills and training can be logged and uploaded all in one place.
Notification before Renewal Date Expiration: Reports can be generated to ensure key expiry dates are not missed and refresher training or qualifications can be booked and attended.
Supply Chain Management
Warehouse and Logistics
Demand Management
Production Execution
Manage BOMs
Recipe Management
Manage Work Instructions/ Shifts
View Product Genealogy
Measure Equipment Effectiveness
Actual Costs and Estimates
Quality Control
Built-in Real Time Analytics
SAP Business ByDesign integrates all the functions of an educational institution and digitally store all the data over a unified database allowing quick data flow without extensive paperwork.

Integrated functions of an educational institution include: 

Finance
Admission
Inventory
Examination
With changing technology and heavy investment needed to constantly evolve telecommunication products and services, it is imperative that the business is agile, flexible and able to react to market changes and customer demands. This can be achieved through real time analytics that are built into the business processes.
Benefits of SAP ByDesign for a telecommunication company:
i) Financial visibility
ii) Customer engagement
iii) Managing compliance
iv) Simplification of complex billing
v) Acquisition and partnership
SAP Business ByDesign helps pharmaceuticals companies optimize their supply chain, comply with business and industry requirements, improve forecast accuracy and drive operational efficiency while adhering to good manufacturing practices.
SAP ByDesign helps to manufacture food and beverage products while tackling business challenges and providing benefits in the following areas:
Purchase operations
Makes formulation easier
Increased visibility
Discount management
Resource-based production
Quality checks
SAP ByDesign is a fully integrated suite that assits engineering industry in the following areas:
Project management
Financials
Human resource management
Supply chain management
Procurement
Customer relationship management
Compliance management
SAP Business ByDesign Solution features include:
Powerful analytics and role-based dashboards to improve decision making
Seamless integration across functional silos
Fexible and adaptable cloud-based software system that expands with your business
Accessible mobile solutions for managing your business and improving customer service anytime, anywhere
Inbound delivery processing
Outbound delivery processing
Intracompany stock transfer processing
Intercompany stock transfer
Inventory notifications
Cancel a released outbount delivery
SAP ByDesign empowers automotive companies to accelerate in the following areas which helps drive market share growth in a highly competitive global market:
Accelerate product innovation
Improves quality
Reduces manufacturing costs
Sell and service vehicles more profitably
This package is oriented to Service Industry with projects and inventory control. The service industry with projects and inventory control package based on SAP Business ByDesign covers the following business areas:
Sales of projects, materals and services
Sourcing and purchasing
Subcontracting
Supply chain planning and control
Warehousing and logistics
Project management and project accounting
Cash flow management
Financial and management accounting
Travel expenses management
Internal and external resource management
Small and midsize professional services companies are turning to technology to advance their business goals. SAP Business ByDesign offers end-to-end project to pay scenario in one system that merges operational and financial data. Reasons for selecting SAP ByDesign include:
Suite in a box
Insightful
Built for growth
Continuous innovation
Use the latest technology and analytics to improve everything from demand planning and CRM to inventory and supply chain management. Plan, source, stock, sell, recover, and analyse – all in one unified IT platform. And run flexible, tightly integrated processes to achieve operational excellence. Meet business challenges head on with smart ERP technology for the wholesale distribution sector. SAP Business ByDesign will help you to:
Manage global growth
Expand into new markets

Delight customers everytime
Keep tight control over product quality and operations
SAP ByDesign solution aim to enable healthcare services providers to make informed decisions, minimise risks, gain end-to-end business automation, and deliver cost-effective care – ultimately unlocking an intelligent enterprise. Transform your Healthcare Business with SAP ByDesign:
Contract management
Supply chain management
Integration
Lot and serial management
Inventory management
Purchasing
Mobility
Financial management
Customer relationship management
Point of Sale
SAP Business ByDesign, the cloud based ERP software is designed for retail companies with several small Point of Sales which sell own products, represents other brands and/or have bought franchises.
The following business areas are covered by SAP Business ByDesign:
Point of Sales Transactions
Sourcing and purchasing
Supply Chain Planning and Control
Inventory Management
Cash Flow Management
Financial and Management Accounting
Travel and Expenses
Personnel Management